World's first Armani Hotel opens in Dubai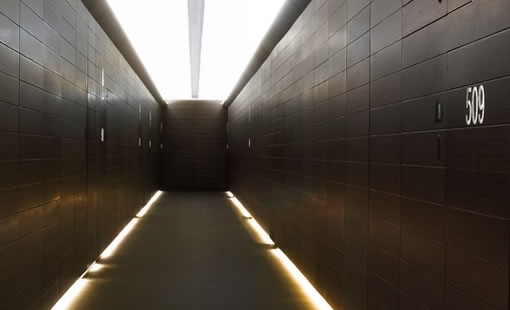 Exclusively housed in the distinctive Burj Khalifa, the world's tallest building, the Armani Hotel Dubai is the
first of a series of hotels, resorts and residences designed by Giorgio Armani to be opened around the globe
and marks fashion maestro Giorgio Armani's debut in to the world of hospitality. Defined by its unique
location, highest standards of aesthetics and service excellence, the Armani Hotel Dubai is the most exclusive destination in the city.
Every aspect of the hotel has been designed by Giorgio Armani. He said: "It has long been my dream to have a hotel in which I myself would like to stay and entertain family and friends, where the Armani aesthetic is combined with Italian-style warmth and hospitality. I am thrilled to open the doors of Armani Hotel Dubai and invite my guests in to experience my world."
Mohamed Alabbar said: "Armani Hotel Dubai is a celebration of superior aesthetics and world-class project development competencies. It will be a referral point for luxury hospitality projects and brings global attention to Dubai and Burj Khalifa. This project required extraordinary attention to detail and a commitment to luxury, perfection and excellence. Our guests will experience the passion that has gone into its development across every touch point."
The opening of the Armani Hotel in Dubai will be followed by the launch of the Armani Hotel Milano. Other
properties underway include the first Armani Resort, planned for Marrakech, and the first Armani Residences
villas, for Marassi in Egypt. Further Armani hotels, resorts and residences will open subsequently in key
international destinations such as New York, Tokyo, Shanghai and London.
The hotel restaurants offer cuisines from Japanese, Indian Mediterranean and fine-dining Italian. Leisure options include the world's first in-hotel Armani/SPA; Armani/Galleria a haute couture boutique; Armani/Dolci, a luxurious confectionary; and Armani/Fiori, a floral boutique.
Complementing the hotel and located on levels 9 to 16 of Burj Khalifa are Armani Residences, featuring 144 luxurious private residences. A collaboration between Giorgio Armani S.p.A. and Emaar Properties, Armani Hotel Dubai is the first in a collection of hotels, resorts and residences to be unveiled in international destinations.