Mount Cinnamon Hotel awarded place in the Sunday Times Best 100 Hotels in the World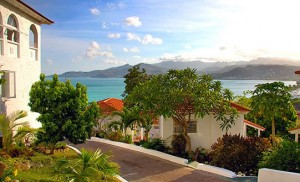 Peter de Savary's Mount Cinnamon Hotel & Savvys Restaurant had an amazing year in 2010. This uniquely beautiful 21 bedroom villa hotel with its Caribbean inspired gastro pub has won international accolades from some of the world's best reviewers and has also managed to surpass all occupancy targets set for the year. In addition, Mount Cinnamon & Savvys have continued to receive hundreds of letters of compliments and commendation from guests, many of whom have become repeat visitors. What makes this little gem located on Grenada's world famous Grand Anse Beach so special? Is it the beautifully designed rooms all with scenic views of the Caribbean Sea? Or maybe the fresh locally grown organic ingredients combined in the dishes at Savvy's? Or the family approach to service which makes every guest feel pampered? The answer is not one of these reasons; rather it is all of them! 
Mount Cinnamon & Savvys Restaurant has found the right combination to cater for the discerning traveler who wants to enjoy laid back luxury! This is why the Sunday Times Magazine has added Mount Cinnamon to the 2010 List of Best 100 Hotels in the World and it is also why Mount Cinnamon has received The Trip Advisor Award of Excellence for 2010 and the Elegant Resorts Best New Caribbean Hotel for 2010.
Mount Cinnamon is looking forward to a wonderful 2011 season. Travelers from all over the world are already making bookings and inquiries about this amazing villa hotel. "Mount Cinnamon is the place to be this year," says de Savary's Director of Development Mark Scott. "The number of referrals we are getting from guests who have stayed with us is astounding. They are telling their friends, families and colleagues about it and there is a definite buzz about this unique, boutique property."
Guests can choose from one bedroom haciendas or two and three bedroom villas. All of the rooms have amazing views of Grand Anse beach and all are fully self contained and offer a kitchen, washer and dryer, living and dining area, balcony, and at least two full bathrooms. In addition, Mount Cinnamon offers its guests a private beach cabana area with sun loungers, a fully stocked beach bar and grill serving delightful drinks and lunches. Guests can also dine at Savvys Restaurant which is fast becoming known for some of the best dining on the island. The food is freshly prepared by local cooks, from local organic ingredients and every table has a view of Grand Anse Beach.
For more information about Mount Cinnamon Hotel – http://www.mountcinnamongrenadahotel.com/
Source: http://www.barnaclegrenada.com