Wednesday, August 29th, 2012

Luxury and opulence pulse through every beat of Charleston, South Carolina's heart. Set between two rivers in the southeast region of the United States, downtown Charleston is enveloped in magic. Its history-filled streets unfold with blooming flowers, stately homes, spectacular waterfront vistas and intricate architecture.
The city of Charleston ranks high on many distinctive travelers' destination lists. We invite you to experience the very best of downtown Charleston with a world-class getaway at the Wentworth Mansion. Charleston's most unique inn was recently recognized by Travel + Leisure Magazine: named America's Top Small Hotel and the 12th Best Hotel in the World.
Nestled in a quiet residential neighborhood, the Wentworth Mansion was built in 1886 as a private residence for the family of a wealthy cotton merchant. Meticulously restored as a luxury inn in 1997 and welcomed into the Small Luxury Hotels of the World portfolio in 2001, the Mansion retains much of its original centuries-old beauty.
Each of the inn's 21 guest rooms has a distinct flair and character. Our rooms and suites are dazzling with inlaid floors, hand-carved marble fireplaces and 12-foot ceilings – some with Italian crystal chandeliers suspended. Magnificent bathrooms offer oversized whirlpool tubs and walk-in showers. Some rooms are appointed with lush daybeds or sun porches, beckoning you to lounge with a book and a glass of wine.
With a glass of complimentary sherry in hand, explore our library, sun room or 360-degree view of Charleston's skyline from our cupola. Greet fellow guests at morning breakfast and coffee service or wine and hors d'oeuvres hour. Retreat to our luxury spa for even more pampering.
The Wentworth Mansion indulges all senses, even offering some of Charleston's finest cuisine at our very own Circa 1886 Restaurant. Tucked away in our beautiful gardens, the restaurant calls the Mansion's original carriage house home. Circa 1886 Restaurant's cozy, intimate dining room sets the stage for a truly amazing fine dining experience.
In its every detail, the Wentworth Mansion is built for enjoyment, luxury and romantic getaways. Though you may be tempted to spend every second of your Charleston trip at the Wentworth Mansion, the city's many breathtaking sights lie just outside our door. Why wait one more second to plan your trip? Call 888-466-1886 to book your stay.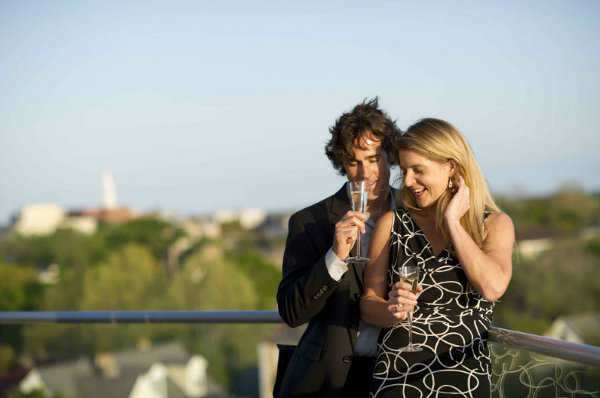 Written by Ellen Schmedinghoff from Charming Inns.