Orient-Express Hotels add the luxury hotel Rio Sagrado Hotel, Villas & Spa to their portfolio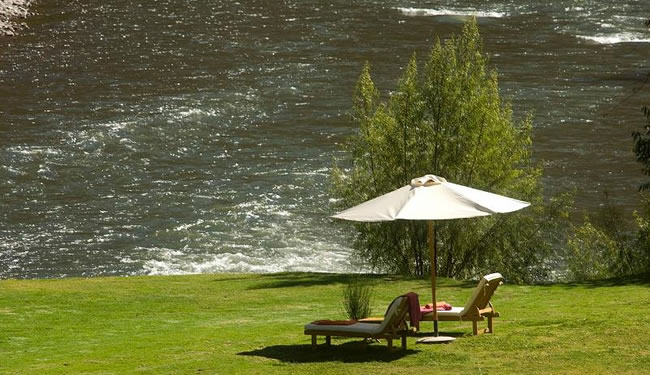 Orient-Express Hotels to have announced the acquisition of a fifth property in Peru. The Rio Sagrado Hotel, Villas & Spa is a 21 suite luxury hotel, which opened in April 2009.
Hotel Rio Sagrado, a rustic two storey property set in beautiful gardens overlooking the Urubamba river with an imposing mountain backdrop, is three kilometres from the town of Urubamba and fifteen minutes from Ollantaytambo, home to an important Inca village and fortress as well as the main PeruRail station stop en route to Machu Picchu. The hotel has eleven deluxe and ten junior suites plus two 250 sq m villas, constructed from natural stone and woods such as eucalyptus and cedar, with marble and onyx bathrooms and flagstone terraces. Its 230 sq m spa has a large treatment room with views of the mighty Urubamba, indoor and outdoor Jacuzzis and a sauna.
The Sacred Valley, located between Cuzco and Machu Picchu, is a popular part of holiday itineraries in Peru. Green and fertile, the valley is an important agricultural area, seen from its high towns as a patchwork of fields and Inca terraces. Attractions include the famous Sunday Pisac craft and produce market, Chinchero, according to legend the birthplace of the rainbow, as well as important Inca ruins at Ollantaytambo. PeruRail, the rail operator run by Orient-Express, stops regularly at Ollantaytambo station, as well as Cuzco and Aguas Calientes (the station for Machu Picchu), allowing guests to travel between the Company's hotels in style, while offering fantastic views of the valley and the Andes.
Paul White, President and Chief Executive of Orient-Express Hotels said, "Expanding the Orient-Express Peruvian experience to the Sacred Valley is a natural as well as a strategic move and enables the company to provide its guests with a luxury itinerary from arrival through to departure. The key sights in this part of Peru are the city of Cuzco, the Inca sanctuary at Machu Picchu and towns, antiquities and markets of the Sacred Valley – arguably one of the most beautiful and scenic places in this wonderful country."