New Luxury Hotel in Suzhou opens – Pan Pacific Suzhou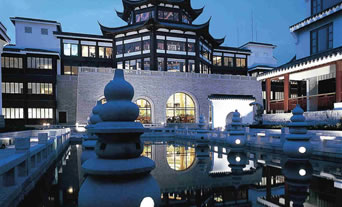 The landmark 484-room property features traditional Suzhou gardens and ancient Chinese aesthetics fused with modern comforts and luxury. Prior to its opening, Pan Pacific Suzhou is undergoing refurbishments to deliver the level of personalised experience synonymous with the Pan Pacific brand.
At Pan Pacific Suzhou, guests can expect an enhanced overall experience in line with the Pan Pacific standard of luxury, starting from the booking process through to their arrival and stay at the hotel.
Guests can now make their bookings via the Pan Pacific website panpacific.com, online channels, as well as Pan Pacific's toll-free voice reservation centres globally. Their guest preference information will also be captured in Pan Pacific's proprietry reservations and distribution platform PANTHER to allow the hotel to better meet their needs.
ENHANCED GUEST EXPERIENCE AND FACILITIES
On arrival, guests can look forward to the following enhancements and services specific to the Pan Pacific brand such as:
Pacific Club: The hotel will feature Pan Pacific's exclusive, premier executive club, the Pacific Club, at the hotel's new Towers Wing. Pacific Club guests will enjoy an unrivalled level of personalised attention and luxury, with butler service and access
to the enhanced Pacific Lounge serving complimentary breakfast and evening cocktails.
Additionally, guests will have access to business amenities, including fully-equipped meeting rooms and comprehensive business services. The brand new Towers Wing, unveiled in February 2009, features 99 deluxe rooms and suites.
Restaurants and Bars: Guests can dine at Pan Pacific's award-winning Cantonese restaurant, Hai Tien Lo.  A new Italian restaurant Avanti Italian Kitchen – with an award-winning chef at its helm – also serves up time-honoured classics with a modern twist.
Meetings and Events: A fully-equipped business centre provides professional services and facilities for business travellers while the Grand Ballroom, renovated with state-of-the-art A/V facilities and due for completion by March 2010, is ideal for banquet dinners, weddings, private parties or corporate events.
"The rebranding and opening of Pan Pacific Suzhou will heighten the profile of the Pan Pacific brand and that of Pan Pacific Hotels Group in China," said Mr A. Patrick Imbardelli, President and CEO of Pan Pacific Hotels Group.  "We look forward to it joining its sister hotel Pan Pacific Xiamen in bringing the Pan Pacific experience to more guests in China when it opens in January next year."