Not everyone hates the cold!
The latest goings on at our favourite winery, Chapel Down.
The snow and very cold weather may be bad news for some of you, and a joy for others. For us, its mainly good news. Firstly, we all enjoy the look of the place with a covering of snow and its good to have a snowball fight and a bit of sledging. Secondly, in the vineyards, its no bad thing. The vines will be thoroughly dormant and that's good news. For the last two years we have had exceptionally mild winters and we think that has been one of the causes of the lower harvests we have had in 2007 and 2008 as the vines have remained stressed over the winter and not become dormant for long enough. I know I'm grumpy if I dont sleep well. In addition, the various bugs that can cause problems will not have survived this cold snap.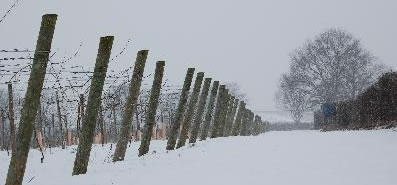 The vineyard on the first day of the snow
On the downside, visitor numbers to shops and restaurants generally are down. Remarkably, the restaurant here at the vineyard continues to thrive and had its busiest Saturday ever on the 24th January!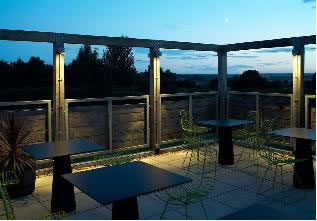 A rare quiet time on the balcony at dusk
Of course winter means its pruning time. Our teams are out in vineyards preparing the vines for this year. Owen went out with a camera the other day and took the following shots of the vineyard. Arty isn't he?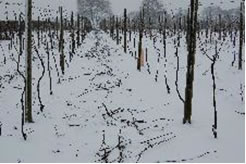 It seems that most businesses around here are pruning too – but its people that are being cut. It seems that everyone is cutting back on their spending and looking for bargains. There are lots of things to cut back on, but I think life is too short to drink bad wine. It may cost a couple of pounds more, but it's good for you (in moderation), is something to look forward to and share and it relaxes you. I dont think we should compromise on feeling good with your partner, friends or family, no matter how tough things get. Fortunately. it seems many agree with me.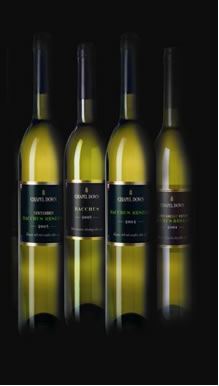 Please remember whilst you are bargain-hunting though. The real saving you make in sourcing local produce is the support you give to local workers and keeping employment and maintaining healthy communities. We do. We have an active sourcing policy of Kent and our local community first, England or British second, Europe third, Rest of the World if we must. Perhaps if more people did the same….
Frazer Thompson
Managin Director