St. Regis Bahia Beach Resort, Puerto Rico marks Caribbean debut for luxury hotel chain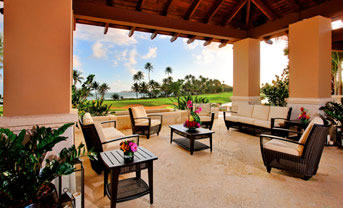 Starwood Hotels & Resorts Worldwide announces the debut of St. Regis' first Caribbean hotel with the opening of The St. Regis Bahia Beach Resort, Puerto Rico, introducing unparalleled luxury and bespoke service to one of the world's most beautiful destinations. The resort is ideally located on a former coconut plantation, nestled between the lush El Yunque rainforest and the tranquil waters of the Espiritu Santo River. The spectacular 483-acre resort embraces the island's stunning natural beauty with lush landscapes, breathtaking ocean views and a private bird sanctuary and is destined to set new standards of service and luxury for Puerto Rico. The magnificent resort offers signature St. Regis Butler Service and features Jean-Georges' restaurant Fern, a 10,000 square foot Remède Spa and an ocean-front golf course designed by Robert Trent Jones Jr. The St. Regis Bahia Beach Resort, Puerto Rico is the Caribbean's first certified Gold Audubon Signature Sanctuary.
"We are proud to debut the St. Regis brand in the Caribbean with the opening of The St. Regis Bahia Beach Resort, offering travelers access to the distinguished St. Regis legacy with the highest expression of personalization, refined elegance and uncompromised guest experiences," said Paul James, Global Brand Leader, St. Regis and The Luxury Collection Hotels & Resorts. "With the region's unmatched natural surroundings, welcoming atmosphere and vibrant culture, Puerto Rico is certainly one of the world's most coveted destinations for our discerning guests, and The St. Regis Bahia Beach Resort is poised to become the Caribbean's most idyllic address."
Designed by acclaimed architectural firm Hill Glazier, the resort boasts 139 luxuriously appointed guest rooms, including 35 suites with private terraces offering spectacular ocean views as well as 25 private St. Regis Estate Homes. Seamlessly blending Puerto Rico's rich culture and natural beauty, accommodations have been designed as low rise plantation style buildings to harmonize the guest experience with the exquisite surroundings and exotic nature that will be preserved around them. Guest accommodations feature beautiful residential interiors, custom-designed furniture and spacious marble bathrooms in addition to luxurious linens and high-tech amenities such as high-speed wireless internet, a 40-inch LCD television in room, televisions integrated into the bathroom mirrors and an iPod docking station.
Set along two idyllic miles of private beach, The St. Regis Bahia Beach Resort, Puerto Rico boasts expansive views of El Yunque National Rainforest and the Atlantic Ocean. The resort has been thoughtfully developed, ensuring that the local plant and wildlife have not been disturbed, and these exceptional efforts and practices have been recognized with Audubon's Gold Signature Sanctuary certification. The resort's "green team," composed of an ecologist, two agronomists, and a landscape architect, cultivate native and indigenous plants that protect the natural vegetation of the resort's lowland coastal and forest areas. As part of its commitment to environmentally sustainable development, The St. Regis Bahia Beach Resort has created a 2.4-acre plant nursery and garden, which will provide fresh produce and herbs for use throughout the entire resort.
In keeping with the resort's homage to the enchanting island, The St. Regis Bahia Beach Resort's signature restaurant Fern offers tantalizing culinary delights prepared with the freshest indigenous ingredients. Exclusively developed by celebrated chef Jean-Georges Vongerichten, the menu showcases a blend of Jean-Georges' world renowned repertoire of distinctive dishes with traditional Puerto Rican ingredients such as papaya, mango and coconut.
The 10,000 square-foot Remède Spa at The St. Regis Bahia Beach Resort, Puerto Rico includes seven treatment rooms and presents guests with a decadent and exceptional spa experience. Designed to rejuvenate and restore, the spa features relaxation areas, steam and sauna facilities, cold and hot plunge pools, a fully equipped state-of-the-art fitness center and several treatment rooms with private outdoor terraces. Remède Spa also offers a comprehensive menu of unique customized and results-oriented treatments.
The St. Regis Bahia Beach Resort's golf course marks Robert Trent Jones Jr.'s first design project in Puerto Rico. Operated by Troon Golf, the world leader in golf course management, the course is remarkable with two miles of beach, a native maritime forest and views of the rainforest from nearly every hole. Committed to preserving the natural integrity of the site, the course design is sensitive to the environment while providing challenging variety. With holes along the ocean, scenic lakes, undulating fairways and gentle ocean breezes, the course's breathtaking splendor is matched only by the world-class play it offers to golfers of all abilities. The course's clubhouse showcases Bahia's signature tropical plantation architecture, beautifully accented by exposed stone and brickwork. Inside the clubhouse guests have access to the restaurant Molasses, a golf shop, an inviting bar as well as men's and ladies' lounges and locker rooms offering a variety of amenities and services. Outside boasts a full-size beachfront swimming pool and patio areas overlooking the ocean for dining and entertaining.
Following in the literary tradition of St. Regis founder John Jacob Astor IV, who commissioned a library for the brand's flagship The St. Regis New York in 1904, The St. Regis Bahia Beach Resort offers a modern spin on the concept by offering a curated library as a special guest amenity. The library includes book selections from St. Regis friends and influencers including fashion designer Jason Wu, renowned chef Jean-Georges Vongerichten and jewelry designers Alexis Bittar and Temple St. Clair, along with St. Regis Connoisseur and celebrated polo player Nacho Figueras.
The St. Regis Bahia Beach Resort features nearly 27,000 square feet of function space, including three outdoor lawn event spaces, the ocean-view Astor pavilion and the spacious elegance of the Astor Ballroom, setting the stage for grand weddings and occasions in true St. Regis style. Situated between the Espiritu Santo and Herrera rivers and bounded by the majestic El Yunque National Forest, The St. Regis Bahia Beach Resort, Puerto Rico offers astounding views as well as unique activities such as kayaking, snorkeling, windsurfing and fishing.
Supported by over 900 weekly flights, Puerto Rico is easily accessible via direct flight from a multitude of major cities in North America, and as a United States territory, passports are not required for American citizens, a unique advantage for US travelers to the Caribbean. The St. Regis Bahia Beach Resort is just 16 miles from Puerto Rico's Luis Muñoz international airport, which is the largest hub in the Caribbean. Combining Puerto Rico's natural beauty and rich colonial history with St. Regis' timeless sophistication, bespoke service and modern luxury, The St. Regis Bahia Beach Resort's arrival on the shores of Puerto Rico will forever change the landscape of luxury travel in the region.