The InterContinental Mendoza, Argentina Opens
InterContinental Hotels today expanded its presence in Argentina with the opening of the InterContinental Mendoza right in the heart of Argentina's renowned wine country. The 15-story InterContinental Mendoza totals 180 guestrooms, inclusive of 24 suites.
The InterContinental Mendoza boasts 11 meeting rooms totaling 22,500 square feet, including a 12,000 square foot ballroom, and also has 18,000 square feet of pre-function space.  Its amenities include a full-service spa named Deyabu, swimming pool, gym and restaurant.
It is the 18th InterContinental Hotels & Resorts property in Latin America and the Caribbean, with three additional currently under construction.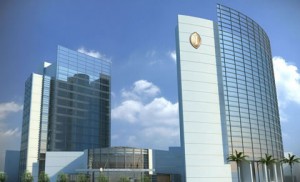 The InterContinental Mendoza is located across the street from Mendoza Plaza, the city's largest shopping center, ten minutes from downtown Mendoza and twenty minutes from the city's international airport.  It is on the major thoroughfare (Acceso Este) which connects Mendoza with the nation's capital, Buenos Aires.
The property is IHG's second InterContinental in Argentina, joining with the venerable InterContinental Buenos Aires.  A third InterContinental is currently under construction in Argentina – the InterContinental Nordelta Buenos Aires, Residence & Spa, in the Nordelta area of Buenos Aires.
The region is the heart and soul of Argentina's wine country, which was introduced by European settlers in the 19th century.  The wineries in Mendoza produce the world's highest ranked Malbec wines.
The city is widely recognized as an adventure tourism center, offering a broad-array of year-round activities, including hiking, biking, fishing, and rafting. Mendoza attracts more than 700,000 tourists per year, making it one of the region's fastest growing industries.
In 2008 National Geographic Traveler published its annual destination scorecard and Mendoza was widely acclaimed (number 10 out of 109 worldwide destinations) in a survey that took into consideration environmental and ecological quality; social and cultural integrity; condition of historic buildings and archaeological sites; aesthetic appeal; quality of tourism management; and outlook for the future.
"This property is another major milestone in our company's long history in Latin America," said Alvaro Diago, COO, IHG, Latin America and Caribbean.  "Mendoza is a spectacular destination, both for business and tourism, and we applaud the KLP Emprendimientos  S.A. team for constructing a truly spectacular property."